Description
Methicillin Resistant
Staphylococcus aureus
(MRSA)
Rose to mauve
Leading cause of nosocomial infections, especially in intensive care units, the MRSA sources are either endogenous (the patient) or through cross contamination (environmental or by person to person contact). The major issue with this pathogen is its resistance to a large panel of antibiotics, among them beta-lactam antibiotics, limiting the therapeutic options for clinicians.
Early detection is essential for controlling the spread of MRSA, providing appropriate care, and avoiding complex and expensive treatments. Pre-admission screening for MRSA has proved to be an effective method for reducing the hospital burden of MRSA-colonised patients. The savings due to consistent decolonisation before elective admission outweigh the costs of screening. Today, in the US, the extra-expenses linked to difficult treatments of MRSA infections are estimated at $2.4 billion for about 370,000 hospital stays. (Genetic Engineering and Biotechnology News, August 2009).
In the UK, the estimation of the additional cost of discharging every hospital patient who acquires MRSA is £9,000.
Intended Use
CHROMagar™ MRSA is a selective and differential chromogenic medium for the qualitative direct detection of colonization by methicillin resistant Staphylococcus aureus (MRSA) to aid in the prevention and control of MRSA in healthcare settings. The test is performed on anterior nares or perineal swab specimens from patients and healthcare workers to screen for MRSA colonization. Results can be interpreted after 18-24 h of aerobic incubation at 35-37 °C.
CHROMagar™ MRSA is not intended to diagnose, guide, nor monitor therapy for MRSA infections, nor provide results of susceptibility to methicillin. A lack of growth or the absence of pink colonies on CHROMagar™ MRSA does not preclude the presence of MRSA. Further identification, susceptibility testing, and epidemiological typing is needed on suspect colonies.
CHROMagar™ MRSA can also be used in conjunction with other laboratory tests and clinical data available to aid in the identification and in the diagnosis of MRSA infections in skin, soft tissue, wounds and positive blood cultures. Concomitant cultures are necessary to recover organisms for further microbiological susceptibility testing or epidemiological typing.
1. Absolutely reliable: CHROMagar™ MRSA, introduced in 2002, was the first chromogenic medium for MRSA detection. It lead to such significant reductions in both, the response time and laboratory workload, that it allowed an absolutely necessary wide-scale patient screening.
2. Efficient: The medium exhibits sensitivity and specificity values close to 100 %. CHROMagar™ MRSA allows an accurate detection of MRSA with a higher level of sensitivity than oxacillin containing media.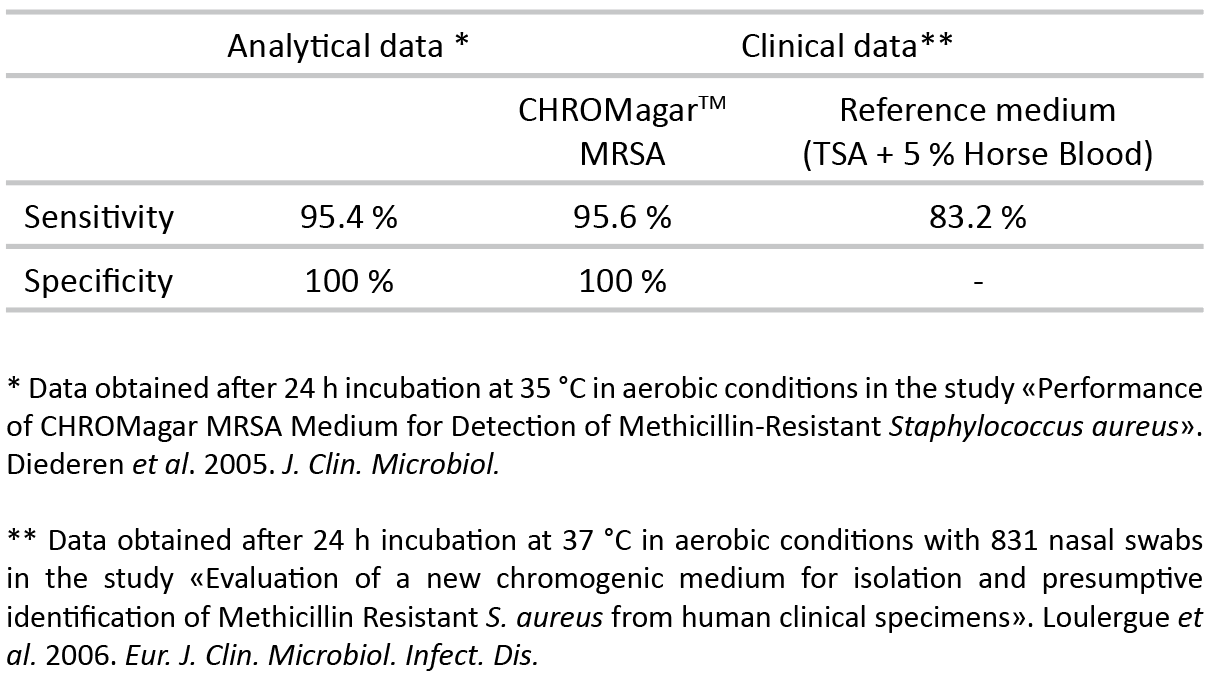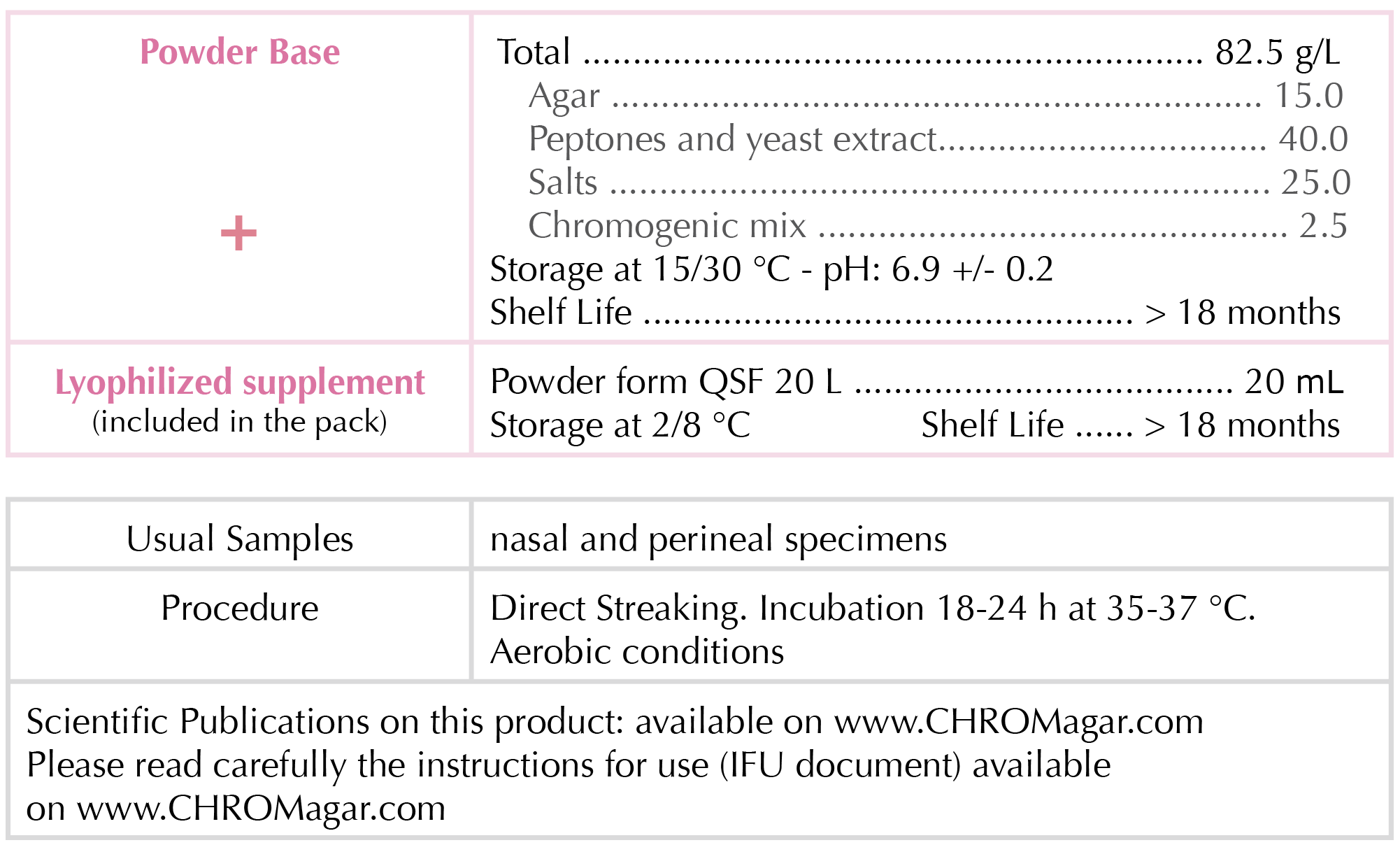 To download the certificate of analysis, please indicate your lot number below: